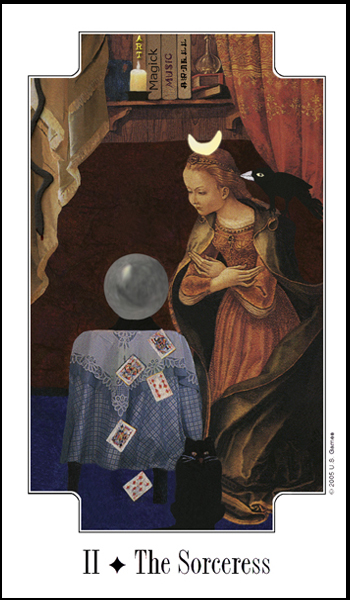 Print Houses Specializing in Tarot, Oracle, Lenormand and Playing Card Decks:

Quality Playing Cards & Games, Inc. (in Florida), is a green energy company; and the printer we worked with, Summer 2013 and again with another full 78 card deck in 2014. A reliable company and quality printer of decks.
They offer free card samples and detailed, reasonable quotes, as well as free assistance from their art department (can help create templates for formatting cards, booklet pages & box; all while working from your favorite digital art program, like Photoshop). And when you are ready; upload completed 'un-flat' files to a secure site. You can then view 'Proofs' on your computer. Their art dept. can further assist with final details or touch-ups. Once you have sent a deposit; QPC can mail hard copy proofs (uncut, flat, paper prints) for your inspection, if requested (a good idea if concerned about precise colors, tones & hues, etc., but adds additional weeks to estimated shipment time - and any changes at this point will cost extra since it is in the post production phase.) It is worth noting that they mail an actual hard copy, (post production) sample deck before shipping the entire inventory so you can inspect it carefully before the rest is mailed.

While they offer smaller print runs of 500 decks, the price compared to 1000 was only around $1000. less, so didn't seem worthwhile (paying almost as much but losing half potential profit). With QPC you can conceivably get a full color, 78-card deck set made on sturdy '350 GSM, Satin finish' cardstock with rounded corners; correlated in the card order you prefer and cello wrapped; including an (optional) 28-page, full color booklet, in either a custom (full color) tuck box or a sturdy 2 piece box for around ($7500. for 1000 sets = $7.00 ea.) It could cost less if you chose a thinner cardstock (such as 300 GSM) or didn't need a lwb or box... This is just a round figure to give a general idea of cost. They also offer lwb booklets with 52 ~ 100 pages or can produce soft cover books (instead of paper covers) for a bit more (but much nicer presentation). Any version should still fit snugly together in the box with the deck and includes full color options. Also if the number of pages you need for the booklets is different, (but divisible by 4), they should be able to give a quote. They seem flexible if you are patient and also follow up with them when needed. (They are juggling a lot of projects so it may be necessary to touch bases and make sure you are still on the same page & schedule).

They estimate print to shipment time: 6-8 weeks from when they receive your Final Proof approval, but I would generously pad that estimate if you have a strict deadline. Especially during high season or if you slow down the process with any changes, or hard copy proofs. QPC seems to like to take their time and do a thorough job.


*Update - regarding 1st print job* Received the advance '1st production' copy of an actual deck set and it looks better than expected! Lovely presentation. The box is sturdy & nicely constructed...with sleek finish & vivid colors. The deck looks & feels great: cards came in the order requested and are sturdy yet easy to shuffle and have a soft sheen. 350 gsm cardstock & satin finish was a great choice. The card (CMYK) colors are beautiful & vibrant. LWB is lovely especially with our additional color images. The text is easy to read (9pt Georgia font). The box, deck & booklet are all the same size and fit snuggly together.
*Over time we have received an occasional complaint that a deck was cropped off center, but for the most part, everyone seems very happy with this indie deck and understand it is a heartfelt offering from a self-published source. So, recommending this printer for Indie deck artists. It was a positive experience and I plan to continue working with QPC with other clients (while always keeping options open for other possibilities).

J.S. McCarthy Printers - Doug Thornsjo, creator of the fantastic Tarot of the Zirkus Mägi recommends working with and went back for a 2nd, larger printing. Looking over their online portfolio it says they are environmentally responsible; using recyclables and 100% electricity derived from wind power.

Devera Publishing (in 2014) Lisa de St. Croix self-published her colorfully painted 78-card deck & booklet set with this esoteric print house out of Portland, Oregon. They sent card samples which are nice quality (300 gsm - so not as thick as the 350 gm option we went with QPC above, but as sturdy as typical playing cards) with a smooth satin finish and rounded corners. Prices seem competitive. They offer extra services (for a fee) such as text editing and help with marketing & distribution. Jadzia DeForest the Project Manager responded to requests in a fast, professional manner and was helpful & friendly.

Carta Mundi has a branch in Texas and it seemed important to get a quote from them because they have been in the card printing business for a long time. Years back the host of a collaborative deck I worked on, Artist Inner Vision had decks printed here and Carta Mundi did a great job. Their minimum deck order, however is 2500 decks.

In 2013 they quoted a price for 2500 decks (not including boxes, booklets or shipping), in the card dimensions we requested: $4.80 per deck ($12,000) and $3.56 per deck for 5000 copies ($17,800). This did not include any set up fees either (which the rep warned would be well over a thousand dollars and more likely two). The cards would come collated and cello wrapped with round corners and printed on 320 GSM cardstock (less sturdy than 350 GSM mentioned above with QPC ). This quote did not include help from their Art Dept. which would charge fees if assistance was needed. And they expect card files to be not only sent to them in layers (background/border, image, text & title un-flattened Tif files in bleed size); which is a reasonable expectation from any genuine deck printer; but they also insist that the text layers be 'outlined' in Adobe Illustrator. Seems a lot more detail work needed to be done ahead of time and that hidden fees lurk if not done correctly and in a standard format. Post production time anticipated to be around 8 weeks.

I sensed that they tend to work with professional card publishers and don't want to be bothered dealing with anyone else. And perhaps good deals could be negotiated for large quantities with high quality production but that they have little patience for the indie artist wanting to make an affordable, artfully made small production. I got this feeling not only from the attitude of the sales rep who spoke in rapid-fire printer lingo, but that she flaked on our phone appointments and didn't return calls, e-mails or do any follow-up for several days and then the quote also took an additional week to arrive and didn't contain all requested details. She was courteous but I could sense her impatience and I wouldn't want to have to deal with a superior attitude when getting something so personal made as an art deck.

Palaimon Cards: in Toronto Canada prints on site. Perhaps they deal more with smaller 100, 300, and 500 deck orders. Possibly they offer artsy cardstocks & boutique style options....? I don't know because after filling out their online form and sending e-mail confirmations, I never received samples promised nor got any follow-up. They did however send a basic quote (in card dimensions requested). Their prices were higher; but again, there may be a practical reason (unbeknown to us).

For a 78 card deck they quoted: $16. each for 100 decks, and $12.50 ea. for 300 decks, $11. ea. for $500 decks and $8. ea. for 1000 (+ a $85. set up fee + P&H). No mention of any booklet options or boxes in their quote or details like; if the decks come cello wrapped with round corners or what type of cardstock options available, etc.

*Update on Palaimon Cards* Have since heard from a deck project host in Canada, planning to work with Palaimon. It seems this printer had gotten good feedback in the past; but may currently be going through economic challenges because they dropped the ball on her large order with months left on the print schedule. They gave no explanations or apology but luckily she had not lost anything (except valuable time) and has since had great results by going local.

WinGo Games Printers: Recommended for challenging projects including Round Shaped Decks
Teacher from Down Under, Annie O'Brien, of the self-published, cheerful, round E-motion cards (created for children as a 'Platform for understanding emotions in self and others') enthusiastically recommends WinGo Games. After innitial language hiccups (due to her unique specifics) was able to produce her round deck and booklet, boxed set beautifully. Some of you may be aware, it is especially challenging to have a round deck made but this company was apparently up to the task. So a shout out to those artists in similar situations.

CT Printing Limited is a UK based company with strong ties to China. It was recommended by a self-published Tarot artist friend living in England. This company was able to offer her the best price to suit her individual needs for a unique, customized (adorable!) box for her deck and book set. And such a lovely, full color, soft cover book. The deck quality is excellent and the price competitive with other deck publishers.

Getting Your Cards Ready for Print
Some of the above printers don't mention Tarot cards in their online portfolios, but understand the specific requirements. You can request sample cards and quotes (keep in mind English may be a 2nd language).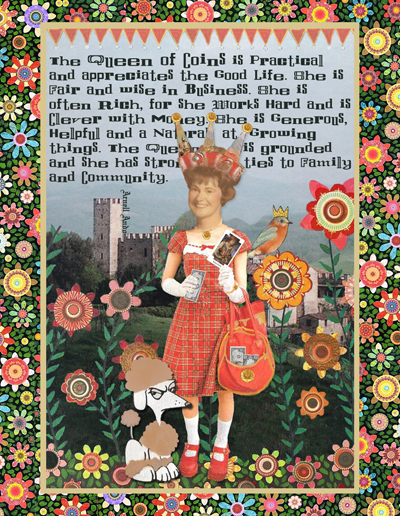 Begin with a high enough resolution (at least 300 dpi). If you are an artist creating artwork presently, you may consider making it twice as big as your desired deck size (with room for card titles). That way, when shrinking the image to size, it will be higher quality. If your deck is standard size you can ask the printers if they have a template to work from; with outline crop marks, (may be easier to work within crop lines while formatting cards in prep for print). Our most recent deck projects were not standard size, so the printer gave card measurements for us to create a perfect sized template in Photoshop. Once the template was made, it was methodical transferring every (80) card image (previously cropped & saved in correct card size) into the template set up; and at the same time, paste in card titles, and save (as unflat CMYK Tiff Files) in a computer folder. When all files were saved, the entire folder was sent as a Zip File to the printer's secure site (took about 3 hours to upload).

Several self published artists have created amazing decks in recent years, (too numerous to mention) and many have gone on to also be published mainstream. Links to a few favorite indie Tarot artists who self-published are listed on my Tarot Links page (which sadly I don't update as much as I'd like.) The book I'm currently working on will include many useful tips and inspirational ideas from a few such artist & creative friends.

Quick, No Nonsense 'On Demand' Style Decks
An alternative to the above professional deck printers; may make good sense when you want a few copies of a deck printed (for family, friends, a Tarot group or special limited edition or to mark an occasion, etc.) You can make a handful and be done with it in less time, with little hassle or order/sell as needed. The quality is not as good as a professional deck printer, but if you are not particular and mainly want to have the artwork on cards to share, then maybe it is a better option. It is well over double the cost per deck to produce but also much less investment (less profit, if you plan to sell them; unless you charge more per deck). No need to send un-flat files or mess with such techy details. They don't tend to offer custom boxes, or deck and booklet sets so most likely you will need to combine print jobs if that is a goal.

Printer Studio offers smaller card sizes with playing card symbols already printed on them, but last I checked, is limited to only a standard 2.75 x 4.75 inch blank deck template/Tarot card size. This is a thinner quality cardstock (300 gsm for a silk finish or 320 gsm for a slightly thicker, more costly, textured 'linen' finish.) Just don't expect your cards to receive personal adjustments or attention to details (art or text) on the printer's end.

Here is a bit of math for a general idea of costs with Printer Studio (from 2013): $15. each for 1 - 15 decks (thinner 300 gsm cardstock), or $17. for each Tarot deck (for slightly thicker, bumpy textured 'linen' finish). The card price goes down if more are printed at once. For an 80 card deck in the thinner 300 gsm cardstock; they charge around $12.00 per deck for 151 - 299 copies. The price goes down again at 300 decks and once more for 500 decks: $11.03 each for 500 decks = $5515. plus shipping (perhaps another $500). Books & boxes (if needed) would be a separate, costly print project but options may be available at your local professional printshop.

My creative friend Michele Jackson who has made several cool Tarot decks and done workshops on deck making while experimenting with various On Demand printers, recommends Printer Studio for overall quality, compared to other On Demand sites such as GameCrafter, or Superior Pod.

Recently another printer: Make Playing Cards.com. has gotten decent feedback (and I believe is a branch of QPC - mentioned at the top of this essay - but is more geared towards smaller, On Demand type commissions).

Saskia Jensen recently self-published a small (50 deck) order with Dutch printer - Groels Drukkerij with good results (2015). Thick, glossy cardstock & bright colors. She shares:
They don't have a minimum. They do regular style print jobs or On-demand projects (cheaper the more you order) with digital printing (you need to request an estimate and proof copy). Prices are reasonable and quality for the 'On demand' was better than most. Thick cardstock was an available option and imagery results both vivid and crisp. For 50 full size, 80 card decks with a shinny lamination and rounded corners the cost was around U.S. $19. each plus shipping (no box or lwb).

*August 2013 Update on a On Demand Company - Gamecrafter (+ I've since heard from several people, that the quality has become quite poor).
An artist (protecting his ID) complained that his deck, printed by Gamecrafter, while never of the highest quality, has been even less satisfactory over time. When he asked them to reprint the most recent decks due to inferior quality, they refused. Now he is left with inventory which he is not comfortable selling. Others say the quality is fine if expectations aren't too high, so it all depends on your perspective.

You may also find inspiration and good tips from this interesting essay; where 4 popular Tarot artists describe their methods of publishing.

I look forward to working with friends on the upcoming book on deck making & self-publishing and also sharing it with like-minded souls who are dreaming up magical decks of their own. I will post news on this page when the book becomes available and hope you will support these efforts and find it helpful. Please feel free to share feedback or any recommendations on printers or deck making methods with me. Most of all, have fun and enjoy the creative experience!


Arnell Ando
Creator & publisher of several Tarot decks & books since 1995, & co-host of the Tarot Art History Tours of Italy with Museo dei Tarocchi + co-author of the (O.O.P.) Tarot Travel Guide of Italy, now also available as an expanded Kindle or Pdf book with over 70 images, maps and Live Links! Please visit Arnell's Art site for art, essays, and reviews.