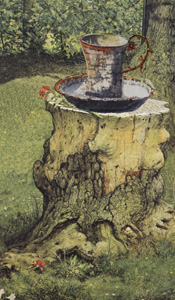 Over the years I have contributed to more Mail Art and Tarot projects than I can remember. Aside from a few that got published and did well out in the big, wide world such as Artist Inner Vision Tarot , or the LiteraTarot deck , most never saw the light of day, since they were made by small indie art circles or member's only groups.

I thought I should maybe keep a record of a few here since working in collaboration with a group and shared vision has been greatly satisfying and often with therapeutic results.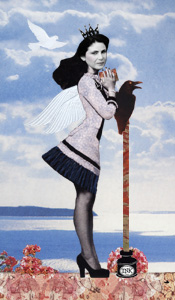 These first two cards are an Ace of Cups and a Queen of Swords made for a Museo dei Tarocchi collaborative deck known as the Ark Tarot. This deck required a door frame template to be added on top of the art so as to appear like we were looking into the future (of the magical year of 2000). This concept did not appeal to enough artists so I doubt it ever got published. As with most of these collab decks, the Title and Number were not added to the cards individually but rather included later so they look uniform in style.


Text for the Ace of Cups:
A lazy summer day invites gentle reflection. A hot cup of tea awaits with the delicate scent of rose petals enticing you to relax and contemplate life's many simple pleasures and great loves. Meanings: Emotional fulfillment and happiness. Feeling rejuvenated and refreshed. A new love or a deepening of one's emotional well being. A breakthrough in spiritual understanding.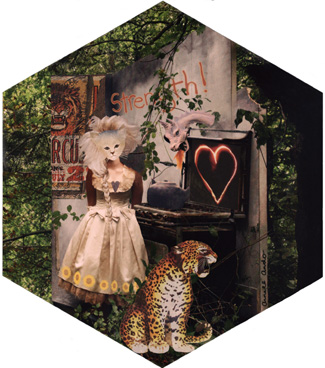 Text for the Queen of Swords:
The Queen stands poised against a bright blue sky. With gossamer wings, she is ready to take flight. On her staff sits perched Raven, who gives counsel on the dark realms. The staff is dipped in an ink well for she is an air sign and quite literary. She clutches a letter of importance. A dove flies towards the right (future) signaling a time of freedom and harmony on the horizon. Meanings: A woman who has experienced sorrow but has learned to see from a 'bird's eye view'. She has loved and lost, but this has allowed her to perceive more clearly. She's independent, clever and spirited.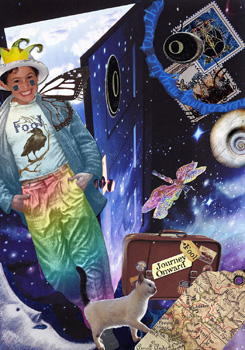 The Strength card (and Star, not shown) were made for a deck hosted by ATS (Association of Tarot Studies) out of Australia. The Major Arcana cards fit together like a Honeycomb. Many lovely cards were contributed. The goal shared by Jean-Michel, (the host) was that the deck would be completed in time to exhibit at the Tarot Symposium in New Zealand, June 2011.


The next was made for TCF (Tarot Collectors Forum) deck in 2009. I actually made three but this was the most personally meaningful one to me...
4 of Wands Card Description:
Since my Mom had an (unrealized) dream of being married in an enchanting setting, with the help of Photoshop I transported my parents to a lovely Cathedral in Italy. My sister and I are the chubby cherubs hovering above, waiting to be born. 4 Sunflower stalks add a bit of Wands energy to this rather 'Waite-Smith' inspired scene.


Next is a Fool card I did for a Bantock inspired Mail Art Deck. Nick Bantock (of Griffin & Sabine) is an icon to many artists especially those of us who have been doing collage long before Photoshop and collage books became so readily available and the scrapbook craze made material more accessible.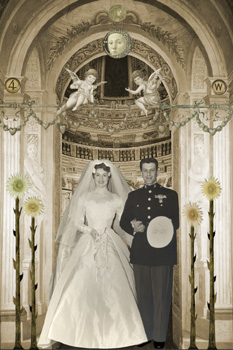 As explained in the art card that goes with the Fool, the inspiration for this version was my son Teppei who is also an artist and free spirit. As in the case of many Mail Art Swaps, the artist makes enough high quality copies for the players and mails them to the host who then divvies them up and mails them back out to everyone. Usually the Postal service gets to see lots of pretty art coming and going during this time.


Next offering is the Tarot Collector's Forum collaborative deck that I contributed the Queen of Coins and World cards. My Mom is the living incarnation of the Queen of Coins and so I did tribute to her here. Being the practical, down to earth, no nonsense Queen that she is, I'm sure she found this portrayal rather silly but I still enjoyed the creative process. The version shown here was made into a postcard.


Queen of Coin Text:
The Queen of Coins is my Mom in every sense. In the background is a nostalgic castle that we stayed with some Tarot friends in Tuscany and also represents wealth, longevity, power and traditions/culture being passed down. Nature abounds in the image; an important aspect of her energy. She holds a Queen of Coins card from one of my decks; she knows her strength, and plays her hand well.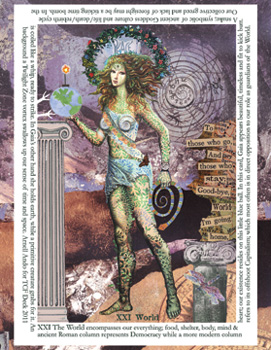 Technique: I took an old B&W photograph and gently colorized it in Photoshop. Then put some filters on it, such as a soft Distort> Pinch (to exaggerate certain features), then Artistic> Watercolor and Hue Saturation, to bring out the vintage look and feel. The rest of it was collaged in layers (Add layer mask>Reveal All was done, in order to make the layers appear more seamless). It has 8 main layers and several minor ones. I spent about 10 hours on this card, enjoying the meditative process and hoping to attract some of that green Queen of Coins vibe.
The XXI World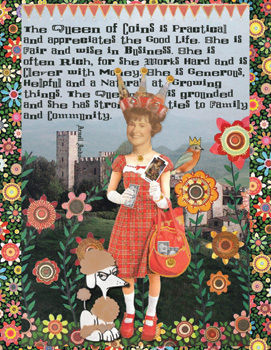 encompasses our everything; food, shelter, body, mind & heart; our existence resides on this little blue ball. Our World is the primal mother Gaia and it sure feels like lately she is getting fed up with abuses of the laws of nature and is wrecking havoc on us. In this card, Gaia appears beautiful, timeless and fit to kick some serious butt. A snake; (symbolic of ancient Goddess culture and the life/death/rebirth cycle) is coiled like a whip, ready to strike. In Gaia's other hand she holds earth (fuse lit), while a primitive creature grabs for it. The ancient Roman column represents Democracy while a more modern looking column refers to its evil offshoot Capitalism; which often is in direct opposition to our role as guardians of the World. Our collective greed and lack of foresight may be a ticking time bomb. In the background a Twilight Zone vortex swallows up our sense of time and space and the pathway leads off to nothingness.


Letter to Dad Sparks Visit during Tarot Readings... I also had an interesting Tarot reading experience recently. Just for the record I stopped doing readings several years ago except for on the rare occasion. Then Lyn Olds who is co-conducting a Tarot symposium this June in New Zealand, asked me to write an essay for an exhibit they will present at the Tarot gig. Some Tarot authors and artists were invited to write letters with a question regarding Tarot to someone who has passed away. Most of the contributors to this project wrote their letter to a famous Tarot person long gone, but for some reason I was drawn to address the letter to my Dad who recently passed away after a difficult battle with cancer. In the letter project I asked if he ever wanted to visit me in Tarot readings as either the Emperor or the card that he has always represented to me (the King of Swords).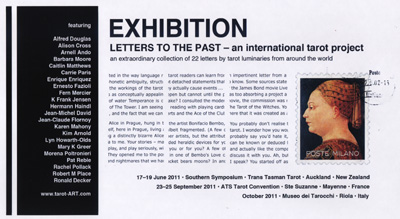 After I sent that letter off to Lyn Olds, despite my hesitation I was curious and felt driven to do a reading to see if by chance Dad would actually want to visit with me. My favorite spread has always been the 15 card Crowley spread.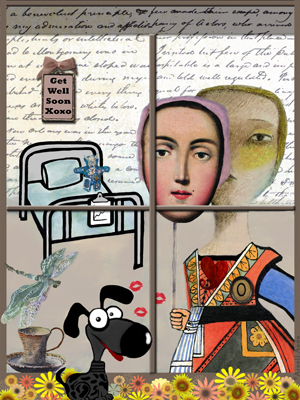 There are 3 cards per category in that 15 card spread and 5 themes. Amazingly in the reading I did while thinking of Dad; his card the King of Swords came right in the middle; as the atmosphere of the question and the entire reading was a beautiful message and quite confirming. Immediately I did a 2nd reading while shuffling the cards for quite some time. Again the King of Swords came up in the atmosphere section and it was also a very meaningful reading to do with questions about my Dad.... Then on Sunday a week later (May 1st) I felt driven to do another reading late at night and the King of Swords appeared in near future and all surrounding cards shared his expansion of consciousness enabling him to understand things so much more than he ever could on earth...a very comforting and uplifting reading. I decided to do a gift of guide card (outside the reading one card is drawn); and up came the Queen of Cups (the card I've always associated with my big sister Diana who has been living with my Mom pretty much since Dad passed and is a real gift; guiding my Mom to a more healing place through this difficult time, with her natural compassionate, sensitive Queen of Cupsy sort of way). So I felt that Dad wanted me to thank Diana for taking good care of my Mom. Needless to say these readings have restored my faith a bit in reading cards again and more importantly have given me a way to communicate with my Dad for which I am most grateful and very moved by also.


And in late 2015, this Fool card for a Breast Cancer Awareness Collaboration with some exceptional artists called Tarot Pink for Cancer which was crowd funded with some of the profits going to that worthy cause. The cards in this deck came out a bit different than we had envisioned but was still a meaningful and heartfelt experience with some creative friends.


Those are just a few of the meaningful art projects with a collective theme and goal. In almost every case I found the exercise allowed me to delve deep and find new treasures of truth. Along with the joy of being a piece of the collective puzzle I also ended up with a lovely memento for sharing in the group process. I highly recommend doing collabs even if you don't consider yourself to be all that artistic. As with most important matters of the heart, it is the journey and not the outcome that gives the most reward and meaning to the experience. Xo, Arnell