Tarot Travel Guide of Italy
History of a Mystery from the Renaissance
Available as a Kindle or eBook
Includes Fascinating Historical Details & Colorful Imagery
Full of Useful Weblinks & Reference Maps
Must Have Guide for Tarot Art History & Italy Travel
Created by: Morena Poltronieri, Ernesto Fazioli & Arnell Ando
Published by Museo dei Tarocchi
Available as both a Kindle eBook: $9.99

Or PDF eBook (Updated October 27th 2017): Only $5.00!
(e-mailed manually once order is received)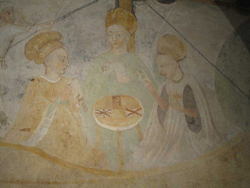 From co-creators of the popular Tarot Art History Tours of Italy (2011, 2012 & 2015), with this unique Travel Guide, you'll trace Tarot's earliest roots and follow a trail to the Italian Renaissance where it was born and continues to thrive and reinvent itself through each artist who interprets the powerful, archetypal imagery & esoteric symbology. Explore fascinating history and people who created & influence this unique art form. This book includes colorful imagery, maps + webinks to places and artists all over northern Italy. Whether you enjoy the journey from the comfort of your couch or plan a trip, this book is an invaluable guide & friend.

PS: Happy to share our most recent Italy Tarot Tour video which gives a nice sense of these unique tours.


---
A sampling of positive feedback:

Enthusiasm from beloved Tarot author and historian, Mary K. Greer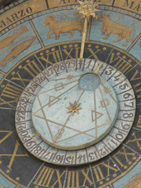 There's a new book (eBook or print version) out that many will find of interest. Called a "Tarot Travel Guide of Italy" by Morena Poltronieri, Ernesto Fazioli & Arnell Ando and published by Museo dei Tarocchi. It focuses on the historical roots of the deck. I suggest moving quickly through the pre-Italian sources of cards to get to the real meat of the development of Tarot in Italy as viewed through the historical artifacts that one can visit. Since quite a bit of the information is not from English-language sources there are all kinds of gems here... Having traveled with Morena and Arnell, who've led (3) Tarot trips to Italy, I know how deeply they've explored this subject.

From S.J.
I'm visiting Italy in a couple weeks and was so happy to find your information on tarot in Italy. I'm looking forward to visiting some of your recommendations and am grateful you have created this guide for tarot lovers. I was expecting to have to piece together information myself and will surely have a more complete sense of what is available in Italy with your help. ... I'm just now scrolling through the pdf and am astounded at the wealth of knowledge contained here! I've been a student of tarot for about 15 years and have longed for an in depth analysis of its origins and early traditions. As a traveler this will be very helpful, as a practitioner I feel it will be invaluable.

Review by Stewart S. Warren,
Evocateur and author of 20 poetry collections, five of which explore Tarot

Tarot author & reviewer Bonnie Cehovet shares a detailed review of the hardcopy + an update on the New Pdf/Kindle Edition.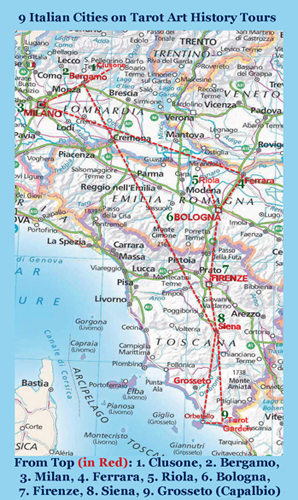 Feedback from Eric Lerner - Tarot artist. author & researcher
Tarot Travel Guide to Italy by Morena Poltronieri, Ernesto Fazioli, and Arnell Ando delivers a lot more than the title suggests. Not only does it provide a detailed guide to landmark artworks that contributed to the development of tarot, but it is a treasure trove of both esoteric, literary and historic lore that have shaped this most popular of divinatory practices. Even an experienced tarot reader or enthusiast will find little gems that expand his or her perception of the cards' revelations. Of course given the extraordinary accomplishments of the authors - Poltronieri and Fazioli as researchers and directors of the Tarot Museum, which has emerged as being the publisher of the most provocative tarots now being created, and Ando as creator of the revolutionary Transformational Tarot and co-organizer of Tarot Art History Tours - those "in the know" might expect nothing less. Honestly, I found there were times in which I felt like I was reading a modernist novel by a visionary author because the way myth, narrative, and history are subtly interwoven and I became engaged in expanding my own perceptions. Also, for any tourist contemplating an excursion to Italy, Tarot Travel Guide provides a rich travel itinerary and useful maps to help make a personal journey of discovery.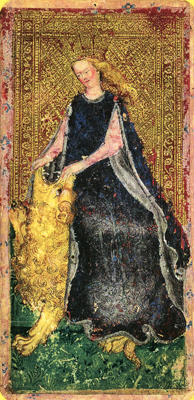 From Ruthanne Martin - Tarot reader, writer & Blogger
I've written at length about my time on the 2012 Tour with the merry band; how it expanded and illuminated my understanding of Tarot, and saturated my soul with the lush beauty of Italy. I am so happy to have the Tarot Travel Guide, the end result of years of scholarship & research, artistically and lovingly compiled by Ernesto, Morena and Arnell; I do believe the hard copies are sold out, so lucky duckies, we are, to be able to obtain the guide on Kindle. It is truly a labor of love and a gift from three of the foremost experts on Tarot (and Italy)...

Response from Diana Monti - of 2012 Tarot Art History Tour of Italy:
I'm so delighted to have such a book, it really is perfect for me - I began my more in depth education with Tarot on Arnell and Michael's Tarot Art & History Tour of Northern Italy. Everyday was filled with sights and information so fascinating I felt like I couldn't possibly take it all in - and my travel journal was sorely lacking for all that was there for us to witness. The Tarot Travel Guide of Italy puts all this wonderful information together with much more detail and research but easy to read, beautiful pictures and maps. It makes me want to go back to see it all again! To me the book is an essential contribution to the understanding and preservation of the history of Tarot.

Feedback from Charlotte Porter - Professional editor, Tarot reader and researcher:
Three times in my life, I have been fortunate enough to visit Italy. And I was even more fortunate to join Arnell and her husband, Michael, for all three. In two tours led by the late, beloved Tarot artist and scholar Brian Williams, we were introduced to many of the amazing things that you will see on these pages. Arnell and her collaborators on this book have added immeasurably to that, ranging the world for an brief exploration of Tarot history before zeroing in on the streets of cities across Italy -- maps included! -- to peek inside cathedrals, palaces and places of business to show how Tarot has flavored the life of that country. With this book, I can live those heady, sunlit days again and discover new marvels. And you, too, can now walk in the paths of the people of the Renaissance and see their world with an educated eye. Let this book guide you. You will not be disappointed.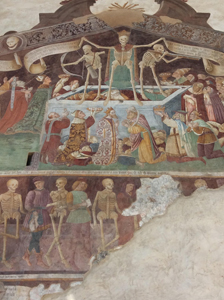 Taken from Tarot Travel Guide of Italy Back Cover:
Tarot Travel Guide of Italy is an essential handbook dedicated to purveyors of this symbolic art form. Whether you aim to visit these mystical places on an enchanting adventure and witness firsthand the colorful evolution in the country of its birth or you savor the study of the intriguing history of how the Italian Renaissance, intermingled with diverse cultural influences has created this multilayered realm of creative expression. This book is designed to share the fascinating world of Tarot, from its early roots to its natural development in Italy. With plenty of compelling images and helpful tips on how best to navigate a journey to many of these places so intrinsic to Tarot lore; with additional clues, including a map, marked with key locations and an actual itinerary from the Tarot Art History Tours conducted by the writers of this book; it makes the perfect study guide and travel manual. New enticing details are revealed that elaborate the progression of this thriving art form, which continues to be interpreted by each artist who translates its symbolic code, while drawing upon the rich culture of its long heritage, from the royal courts of Ferrara and Milan, to the dazzling museum dedicated to the kaleidoscope of nuanced creations, to a Mediterranean garden of iconic sculptures, and every place in between, which shares tales & visions that inspire a personal voyage of self-discovery and an archetypal quest of out universal story, which continues to be written, expressed and explored.


---
Download this Colorful eBook from Arnell for only $5.
(Pdf Version Updated Autumn 2017)


Or from the Tarot Museum in Italy for €. 5.00 Euro

Or the 2016 Kindle Version on Amazon

*Also available from Harvard University's Bookstore as an 'On Demand' Paperback' (this version from 2016 has B&W images but is available at outlets worldwide. Contact Tarot Museum for details).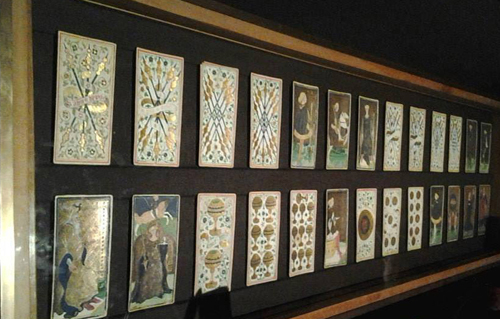 26 Pierpont Morgan (Visconti Sforza) cards at The Carrara during our Tour
---
Tarot Travel Guide of Italy,
History of a Mystery from the Renaissance


Museo Dei Tarocchi Bookshop

U.S. Customers: if we run low on Tarot merch, will order more so feel free to e-mail Arnell

E-Mail Morena Poltronieri or Ernesto Fazioli of: Museo dei Tarocchi, Italy

Brought to you by Arnell's Art

Back to Arnell's U.S. Inventory & Reviews of the Tarot Museum Decks

Close This Window