Tarocchi, Gli Arcani Maggiori
22 Major Arcana Deck
Artist: Daniela Rinaldi
Theme: Goddess Symbology Related to Tarot
Approximate Size: 2.5 x 4.75 inches (6.35 x 12.07 cm)
Box with Magnetic Closure: 6 X 8.25 inches (15.24 x 20.7 cm)
Limited to 300 Numbered Sets, Signed by the Artist
Card Titles in Italian with Roman Numerals
Text Card: Additional Card has Italian & English Major Arcana Titles
Cards are Printed on Thick, Matte Cardstock
Card Back Design: Reversible
Self-Published: 2012
Price: €. 40. Euro + Italian Postage

Description: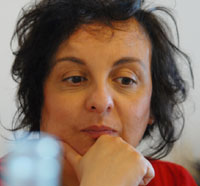 Tarocchi, Gli Arcani Maggiori is an unusual Major Arcana deck recreated from the artist Daniela Rinaldi's original ceramic tile set of Tarot inspired abstract Goddess symbols (shown above). We became aware of a special exhibit of Ms. Rinaldi's ceramic Goddess Tarot tiles while touring Italy during the Fall of 2011. At the time we were excited about this project and hoped she would find a means to transform the ceramic tile set into a deck of cards while still somehow retaining the alluring visual and tactile qualities. She obviously has put much effort and thought into this aim and has created a deck that captures a distinct tactile experience. Obviously not the same sensation or feel as ceramic tiles and yet something uniquely its own. The extra thick, sturdy cards have a soft, matte finish and a comforting muffled sound & feel when they brush against each other while shuffling. This rather small deck of cards feels solid, smooth and comfortable in the hands. The artist was obviously conscientious about making her cards with a specific energy beyond the abstract symbols and simple designs painted in delicate pastels on silvery-grey backgrounds.

The backs of the cards have a dark red and white design which is reversible. If one looks closely it becomes clear that the intricate design is actually that of tiny owls repeated over and over, row upon row (both up-side-down and right-side-up), and that the negative space between these owls creates little crescent moons. This clever motif is more noticeable in the background design of the accompanying box. It is worth mentioning that the box makes a nice compliment to the deck because here again the artist was purposeful in her intention and particular about choosing the format and style. Made of sturdy cardboard, the box opens like a book and has a depressed well within it that is just large enough to protectively house the deck. An invisible magnetic strip inside the edge of the box lid adds extra protection while closing securely. This is a well produced set made with care and consideration. The price seems reasonable, especially when considering its unusual concept and style, the quality production and that is is also signed by the artist and limited to 300 sets. It may appeal to collectors of both Tarot and Goddess art. Some text in English explaining the more obscure symbols would have been helpful but is not necessary for those familiar with Tarot iconography; for they can most likely intuit the meanings inherent in the artist's conceptual piece. And by the way, Daniela Rinaldi learned how to interpret Tarot from none other than the director of the Tarot Museum herself - Morena Poltronieri.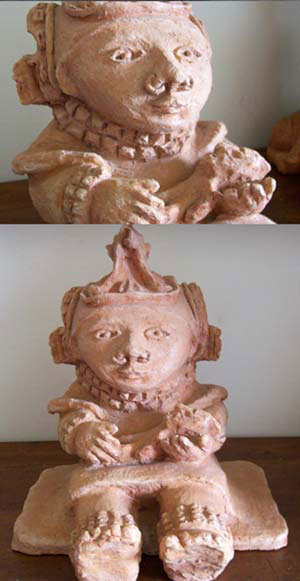 About the Artist Daniela Rinaldi: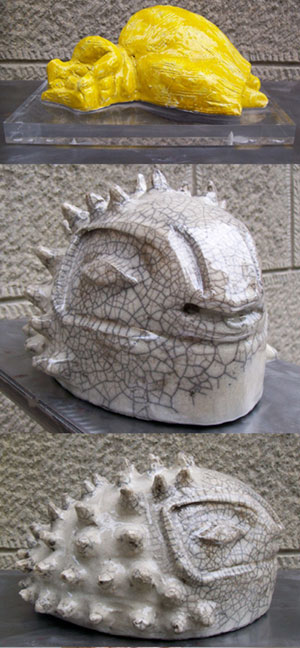 Daniela Rinaldi works professionally as a restorer of ancient artwork. But ever since her early days of art school, she has enjoyed modeling clay and creating sculptures both figuratively and conceptually. In order to pursue her professional career she found it necessary for a time to put aside her personal creative pursuits. Fortunately though, for several years now she has attended an ongoing pottery class, which served as a meeting ground for many different sensibilities. This entirely feminine environment, gave her the space to find her own unique style and to regain her passion for working in ceramics and pottery. She finds this type of activity to be a deeply meditative exercise. A few of her other sculptures are presented in this write-up to give a sense of her versatility and style.

During September and October of 2011 Daniela Rinaldi exhibited the ceramic Goddess Tarot Tile collection (pictured at the top of this page) in one of the most prestigious private museums of Italy: The Museum of Modern and Contemporary Art MAGI 900 'of Pieve di Cento (in Bologna). Ms. Rinaldi received much support and acknowledgment from the art community which inspired her to self-publish this deck.

*Note - We met Ms. Rinaldi during the Tarot Museum Garden Party when we visited for the 2nd annual Tarot Art & History Tour organized by Arnell Ando, Michael McAteer, along with our guide, Morena Poltronieri; director of Museo dei Tarocchi and close friend of the artist of this deck.


Tarocchi, Gli Arcani Maggiori
Top Row: Trumps in Italian & English, Text in Italian, and Card Back
2nd Row: High Priestess, Empress, Emperor
3rd Row: Hierophant, Lovers and Wheel of Fortune
4th Row: Tower, Moon and World Card



To Place an order directly with the Museo Dei Tarocchi shop in Italy

Tarocchi Gli Arcani Maggiori is Currently Unavailable, May Be Out of Print

If supplies run low on popular Museo dei Tarocchi merch, an order is placed so e-mail Arnell if you want to special order anything.

E-Mail Morena Poltronieri (Museum Director)

Brought to you by Arnell's Art

Back to U.S. Inventory & Reviews of the Tarot Museum Decks

Close This Window