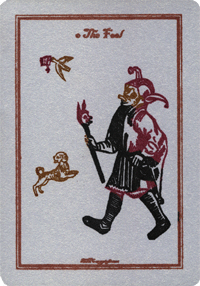 Self published Tarot creator, Anissa Morello has made a unique nitch for herself in the Medieval woodblock-style Tarot art genre. Her enchanting Major Arcana deck is entirely hand-crafted and each card is an original print. This unusual deck, is printed by hand on imported cardstock from Milan, with the help of a miniature Japanese silkscreen machine.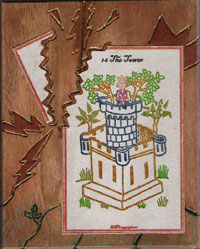 The wooden box is handcrafted as well. It is painted to compliment the Tarot imagery collaged on the front. The box is detailed with carvings and wood burnings and has brass clasps and hinges. The set includes a charming LWB (booklet) printed on parchment paper, and fastened by a ribbon, with poetic descriptions of each card in a fancy font. The book is signed and numbered by the artist. Only 22 sets are made per year, each one corresponding to a Major Arcana card theme in the series.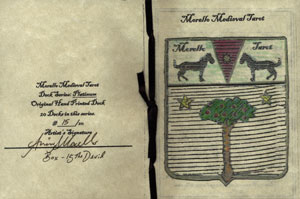 This deck set evokes an old world charm, and is like a treasure that might be found in a European museum. This is not a deck which is easily skimmed over and then placed in a drawer, like the majority of mass produced Tarot decks available on the market these days. It invites you to absorb its medieval atmosphere and gain insight from a time in our distant past. Each card is 4.75" Height by 3.5" Wide (12.07 x 8.89 cm.) and the image is surrounded by a border, which in this rare instance actually emphasizes and enhances the imagery. The corners are all rounded by hand. The card title and number are displayed in a petite and dainty font. The backs are a delightful image of a bird carrying a (Tarot) message but are not reversible.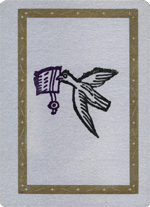 The symbolism in this deck is traditional and easy to identify even for those new to the study of Tarot. Anissa's artwork and presentation is very particular and it is apparent how much she understands and reveres this era of art history. She has devised a technique of silk-screening each card that gives it a handmade quality while also being sturdy and up to the task of doing Tarot readings without much wear & tear. The cards are sturdy yet lightweight and though they are large prints they are easy enough to shuffle. For the tarot art collector this set is a gem. It is available in a very limited, numbered and signed, edition which can be ordered directly from the artist's website UnicaVita, along with many other treasures and beautiful works of art.


Card examples from Morello Medieval Tarot