Introduction
Introduction

Spilkammeret (literally, "The Chamber of Games") was established in 1975 by K.Frank Jensen as a privately owned research archive and library, at a time when the first signs of a revival of interest for esotericism reached Denmark. Like in most other European countries, occultism and related interests had only existed within closed circles during most of the century. In the wake of the 1960's a growing interest for the intangible, however, became apparent.

Spilkammeret's declared purpose became to collect, preserve, register and document "mantic tools", i.e. divinatory and symbolic systems (mainly tarot and cartomancy decks), manufactured and used during the 20th century; the aim being to cover the period near to completeness. The archive currently contains about 1400 tarot/tarock decks, 600 cartomancy or fortune telling decks, plus a large number of miscellaneous items for divination, such as dice, rune stones plus a variety of games and game utensils, which in part can be traced back to a divinatory origin. Spilkammeret's library include about 3000 books on related themes, besides of a correspondence archive.

The first exhibition, based upon material from the archive, took place in 1979 at the "National Library of Education" in Denmark. The exhibition was called "Play and Prophecy" and pointed to relations between many traditional games and systems for divination. The relatively short periods during which exhibitions are shown in public institutions, inspired to a more permanent solution, and from 1984 to 1990, annual thematic exhibitions based upon the growing archive, were open to the public in newly acquired premises in the historic town of Roskilde, Denmark. A publishing arm, `Ouroboros', was founded to make various publications relating to the collection commonly available (details are listed in the `about' section on this site).

At the turn of the Millennium the aim was fulfilled to the extent that the collection encompassed approximately 95% of all tarot- and cartomantic decks published during the 20th Century, besides of a number of earlier packs. The library included most books published in English on the theme plus major works in German and French. However, as the years passed, a problem became obvious. What to do with all this material? I could, of course, as other collectors do, sell the stuff. `Send it into circulation', as one of them said (and did). My interest being, however, that the collection, the related library and the files of correspondences were kept together as a whole in an official institution, to be available for future researchers and other interested parts who, in its completeness, will find a valuable source.

After having refused proposals of handing over the collection to private museum enterprises and to offers from more or less commercial bodies, who would not even allow me any influence on the board, they had prepared to `care for the collection', I had almost given up to find a gratifying solution, when one day in June 2011, the solution just arrived right at my front door. A visitor, Camelia Elias, who titulated herself as `associate professor in American studies and tarot reader' had heard about the collection, and would like to see it. To make a long story short: on December 21st 2012 - the day the Mayan calendar ended - I signed a mutual agreement with our nearby Roskilde University Center's Library and `Culture and Identity'-faculty, that they took over, cared for and made available the collection (now called `The K. Frank Jensen Collection'). Sometimes solutions are not that far away as one might believe...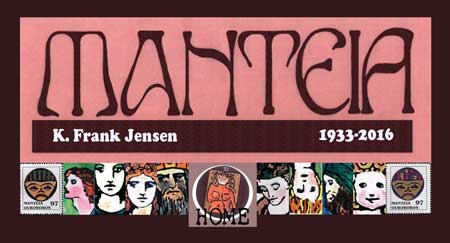 ***2021 August 29th - from Arnell Ando***
Delighted to finally have time & focus to rebuild the late, great artist, author & historian, K. Frank Jensen's manteia-online.dk site that we'd created together over the years, but which unexpectedly & unceremoniously was vanquished after Frank passed in 2016. Had I known I'd have offered to host it then to save more of his historically significant, fascinating Manteia catalogs. Most everything else has been restored with hopes to scan & repost his remaining missing Manteia catalogs as time allows. Unless folks come forward to share those pdfs, which would certainly speed up the process. He was a dear friend to me and many, and is sorely missed by all, but glad to keep Frank with us in this ethereal way.
---
---
This site designed & maintained by Arnell's Art
All contents contributed by K. Frank Jensen