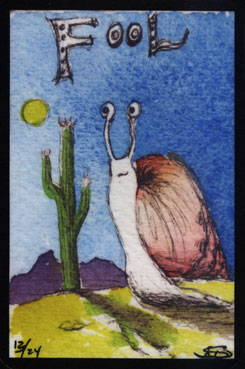 I was tipped off about this artist by my Belgium collector friend Stefan, who sent me a few scans of this deck with a link to the site. I must say I was blown away with the ingenuity and industrious nature of this artist who has created many clever, and charming decks such as this one, and most of them seem to be very limited and hand-crafted editions. I'm pretty sure I counted 27 different decks, some the full 78 cards and others the Majors, and all of varying styles. A most impressive assortment and I'm sure I'll be back as I have my eye on a couple more that I must add to my collection.

Isabel Snail shares the adventures of a snail and her friends while living out mostly carefree days on a golf course. I say, mostly because the Death card has a poor little snail meeting its fate on an escargot fork, while the Tower card has a snail's fragile portable house smooshed against a golf club...(ahhh, but I do enjoy such dark humor when its done with a light and playful touch). Seilonen's darling Isabel Snail Major Arcana deck is hand-crafted with close crop lamination from her original watercolor paintings. The corners have been rounded by hand. The backs are a lovely design which is reversible. The deck has a signed and numbered title card and is limited to only 24 copies and like most of her Tarot decks is reasonably priced, especially considering the time it takes to craft them and the wee amount of decks made in these special series.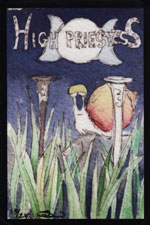 The deck does not contain a LWB. It comes in a plain black drawstring pouch which I was delighted to find came with a larger cardboard gift box which had an original art doodle of Isabel the Snail drawn by the artist. I appreciate personal, handmade touches like that as it makes me feel the artist really enjoys her work and sharing it with others.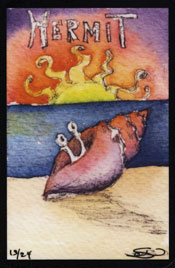 The cards are smaller than most decks at 3.75" Heigh by 2.5" Wide (9.53 x 6.35 cm.) and each card image is surrounded by a narrow black border, which emphasizes and enhances the colorful imagery. The card titles are displayed in a cheerful, handwritten font. There are no numbers on the cards.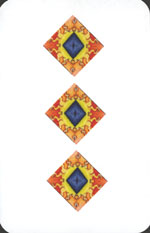 The symbolism in this deck is rather traditional and easy to identify though it is often 'tongue in cheek'. The cards are sturdy yet lightweight and easy to shuffle. For any tarot art collector this set would be a treasure. Mine arrived within a few days of placing my order with a personal handwritten note that cheered my spirits to no end.


Isabel Snail Tarot