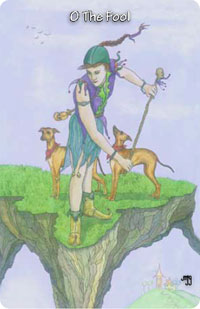 In the Autumn of 2008, while the Tarot Collector's Forum group was discussing a collaborative deck project we were working on together, as well as our own personal projects, we asked Mary Griffin about her method of creating the art for her deck, Hezicos Tarot as well as her publishing details. It was all quite fascinating, especially for artists who wish to pursue the exciting challenge of creating their own deck and self-publishing it. I've attached my questions to Mary regarding these topics along with her detailed response here for those who have an interest in such matters. In her booklet which comes with Hezicos Tarot, Mary also shares in great detail how she created the artwork for her deck.



Arnell writes to Blue Bubble (Aka Mary Griffin):
I love your artwork and really resonate with your beautiful deck. I'm very excited for it becoming available soon! I was wondering if you would share a bit about the self-publishing aspect of your deck making experience. It's probably changed a lot in recent years, and also your being in England, I just wonder how it is different... What were your greatest challenges when taking on this enormous endeavor? Please describe a bit about the process from getting your original artworks to the pre-printing stage. Were you involved in every step of the printing process (were you able to watch your deck come to life and request changes when necessary, either online or on site)? Did you go thru the same company for your deck, box and booklet? Would you recommend this publishing company for other deck creators? How long did the process of self- publishing take from start to finish, and also how long did it take you to create the artworks for this gorgeous deck? How many decks will be published this first printing? What were the biggest differences in the places you went to shop your deck for getting it self published and why did you choose the publishing house you eventually went with? I have so many questions going on in my head but maybe I should stop for now…its just that I am fascinated with this part of the experience and love it when artists share about this more practical aspect of the creative journey. 'Want to get a sense of what the experience was like for you, if you wouldn't mind sharing a bit about that… Please just answer, whatever you feel like, I realize that's a lot to ask Blue Bubble. Thank you!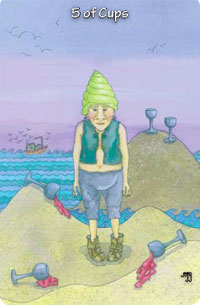 Mary Griffin responds:
Thank you for your interest in my deck and I will certainly endeavour to answer your questions.

The greatest challenge taken on with this endeavour....was to finish it!! It took weeks of thinking about, the usual thing - will I be able to finish it with everything else going on in my life. Will anybody actually be interested? Can I sell my deck?

I sat down one afternoon and drew four different little men (not all of them are shown on my website yet) and from that day I had the style of The Hezicos Tarot.

My main priority was to create a deck which was easy to use, especially for beginners. I chose not to use Roman Numerals as these are not taught these days in school, well certainly not in the UK anymore not sure about the States.

One of the other greatest challenges was being focused enough to actually paint especially when it was a beautiful day outside, anyone else who has completed their own deck will know exactly what I mean.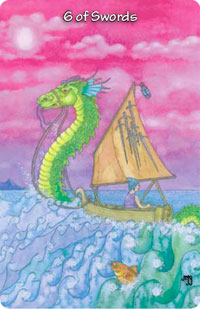 Each image starts its life as a A4 sketch, which I change quite a bit until I am happy with it. The image then gets transferred onto tracing paper which again I check to see if all is ok, if so, it then gets transferred using wax copy paper onto the watercolour paper. By the time the image is actually on the final watercolour paper, I have drawn it three times!

Then comes the good bit...the painting which I absolutely love. All my work is done using Artists quality watercolours. After that I highlight areas of the illustration with a very fine pen using black ink. I have given details of the products I use and a more full explanation of the procedure in the little book which goes with my deck.

Once all the images are complete, they are then scanned to disc. Then sent to Justin who created my website to be cleaned up and the final font is then added to the image. Getting the font right took ages, I could not make my mind up. I have also made my cards wordless (borderless), although on my website they have borders. This was originally done just to get the images out there and seen, but they will all change when the website is uploaded shortly.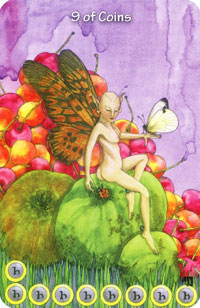 I like wordless cards - when you give a reading they form a large painting with no interruptions.

It took a lot of emails and phone calls to get the printer I wanted. I had quotes that were incredibly high, in fact through the roof and some printers who would not touch tarot cards. Some printers sent the most awful samples and some of the quality was dreadful.

I eventually found a great company in China - C.T.Printing. They have printed many tarot decks. They are very easy to contact as they have one of their representatives in the UK, nothing is too much trouble and they have been very helpful. As far as the technical bit goes like knowing what weight of paper I had to use....Justin helped! I had a dummy box and set of cards sent to me from China which was exactly what I wanted.

That was really spooky looking at them sitting on my table, my box and cards with no images on them. The size and feel of the cards are just what I wanted...I had to tell the printers the size, weight and finish on the cards and box. I wanted a card which was not too big and not flimsy, the cards you get in decks which bend after being used a few times - drives me nuts. To me the feel and size of a tarot card is just as important as the image on it.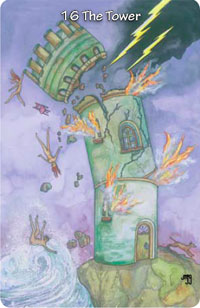 Yes Arnell, I was involved with every step of the process and I could change anything I wanted at any time. The printers I went with, printed my box, book and deck. I also had to design the box top, sides and bottom of the box. I had already done this before getting a "net" from the printers, which is an image of my box flattened out. So I had to fix my image into that net. Never heard of a 'net' being used in printing but you learn something every day.

Without Justin's printing knowledge I would have found it far more difficult. I often got emails from the printers which seemed to me to be in complete google-loop! Justin understood the printing terms and wording.

From start to finish it has taken me three years, give a month or two. That includes everything. I am having 1,000.00 decks printed. The Hezicos Tarot will not be a limited edition deck. It is an expensive procedure - my husband and I have saved hard to do this, we are certainly not well off! Who is these days! One of the most important things you must do if you decide to go down the same road as me is to get everything you do protected. I have had the name Hezicos turned into a trademark name, so no one else can use it. That was expensive as solicitors had to be funded. Make sure you have your copyright mark on your website and images. Put your signature on all your work. You have worked hard to create your paintings, they are precious to you.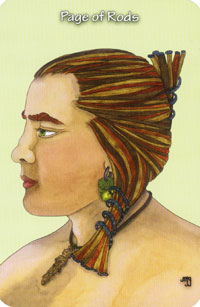 One of the most exciting moments for me was receiving online the image of my box still in the printers net. Justin told me to print it, cut it out and it would form a proper box ....it did and it was so great I can't tell you all!

My decks will be in the UK soon and my website will be updated shortly with the complete deck. Thank you all for your wonderful support and encouragement its greatly appreciated. If you are thinking of creating your own deck...GO FOR IT...its not as difficult as you may think.

Hope I haven't bored you all too much with this.

The entire thread regarding Mary Griffin's deck making process can be found here on TCF.

Arnell Ando's review of this deck, which became available in 2010 is on this page.

You may purchase the Hezicos Tarot on this page of Mary Griffin's site for $35 British Pounds (around $58.00, depending on the exchange rate). This includes free shipping worldwide.